The OEM version of Windows is designed to be installed by manufacturers on new PCs. Information about pricing of Windows 10 in this version have been revealed by the launch platform expected this summer. newegg.com online store. He offered the opportunity to purchase the software for pre.
The list price of Windows 10 OEM version of Home will cost 109.99 dollars., While the price of variety Professional is 149.99 dollars. According to information available on the website delivery system in pre-purchased will be carried out on August 31 this year.
given by neweggo.com amounts indicate that Windows 10 OEM is expensive in both offered versions for $ 10. compared with the same version of Windows 8 when placing it on the market in 2012.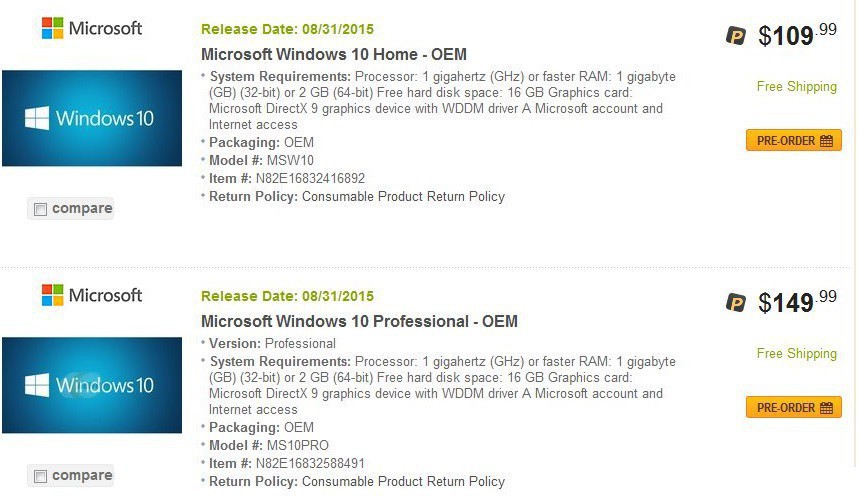 At the moment there is no information about how the money will be shaped windows 10 for sale to end-users. However, they are usually higher than the OEM versions. Microsoft said earlier that Windows 10 will be available as a free update for all users of Windows 7 and 8.1 (for more on this). However, later he verified this information, stating that the full edition of Windows 10 will be able to install only the holders of legitimate copies of previous versions. Owners pirated copies of Windows after updating to version 10 will see special logo and receive notifications of use of the illegal copy of Windows.
According to the plans free update to Windows 10 will be covered only three versions – Home, Professional and Mobile. In total on the market is to occur 7 different varieties of Microsoft's new system (see details).
More information Windows 10, Windows, Microsoft